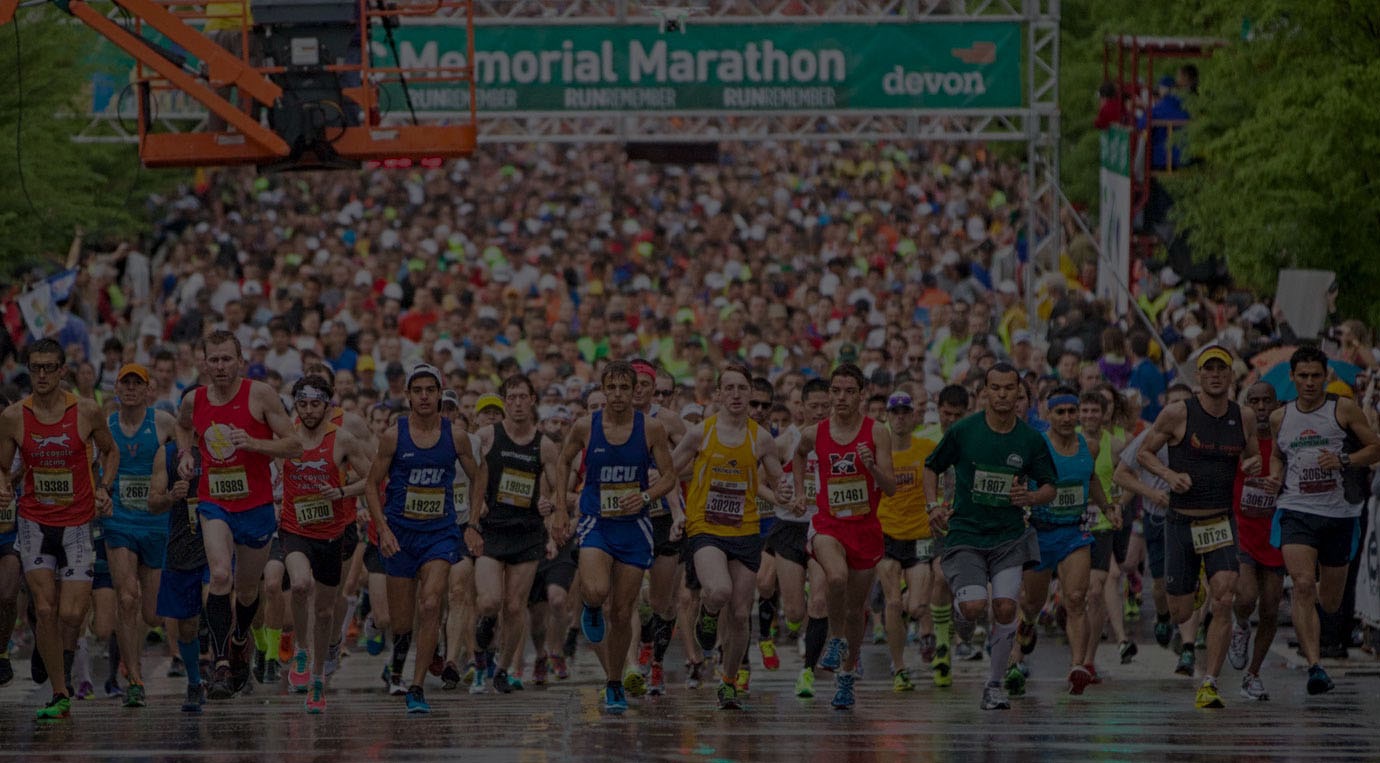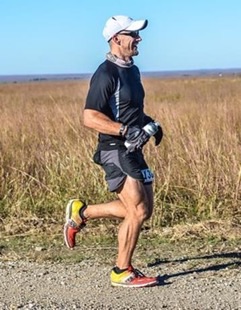 NICK SEYMOUR
3:30
I'm honored to be pacing the 3:30 marathon group again in 2017! This is the third year I've been selected as a pace group leader and my pace teams have successfully brought our runners in under the goal time each year. My first race ever was the OKCMM half marathon in 2011 and I was hooked from that point forward. I've participated in numerous events since then ranging from 5K Pub Runs to Ultra distance events. Racing the OKCMM is a great challenge but leading a group of enthusiastic athletes as they chase their goals and grow their love of the sport is even more enjoyable to me. I'm excited to meet everyone and help you achieve a PR or perhaps even a BQ finish time on April 30th!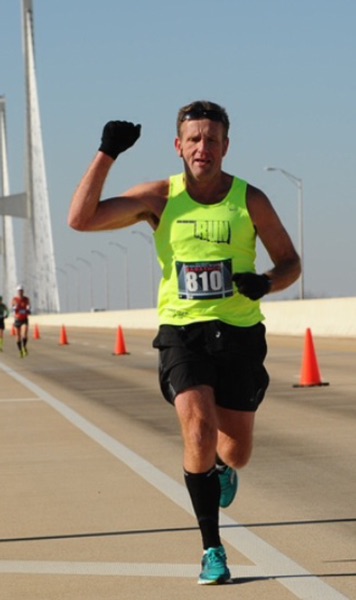 MARCUS TUBBS
3:30
I live in scenic Southeastern Oklahoma where I have an abundance of track, road, & trail training opportunities! I am a member of Choctaw Nation PACE, which offers a great variety of run events each year and is such an awesome, supportive run community! I thank God every day for the chance to run and for all things!! I'm truly thankful for the chance to pace again at OKCMM for such a great event with an awesome cause! Look forward to seeing everyone!!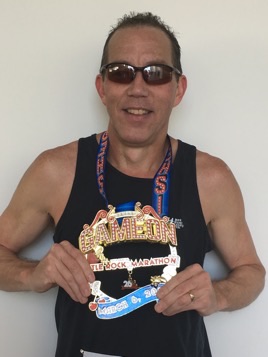 GLENN BARKER
3:40
Glenn ran his first marathon in October of 2016 and, within four months achieved his goal of running a sub-four hour marathon. While the marathon is probably his favorite distance, he loves races of all types because they allow him to be with his friends (run family) and other like-minded people. Glenn is probably best known for his grit, drive and work ethic. He also loves to motivate and guide other runners to realizing their own goals. Inhale Courage....Exhale Fear.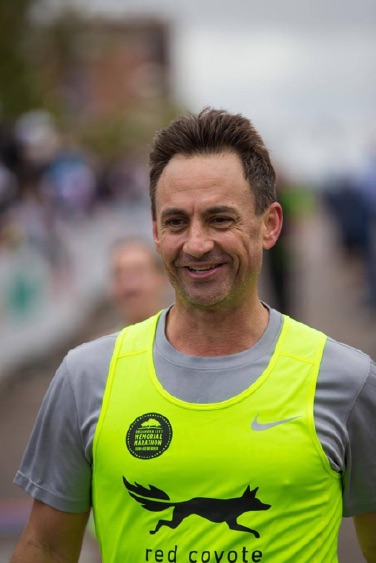 NICK POLITO
3:40
Married for 23 years with three sons. I started running in my late 30s to get into shape and lose a little weight. It soon became my exercise of choice and my social outlet. After increasing my mileage and I got a little faster I was able to brake 3 hours and ran Boston. I then refocused on some trails and Ultras. I ran all distances and including some 50 and 100 mile races including Leadville and Western States. I have paced 20+ Half and marathons. I really enjoy helping other reach their goals.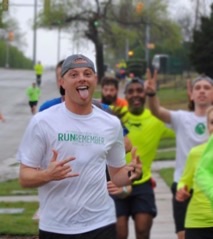 BRANDON ABLA
3:50
Hi, my name is Brandon Abla. I will be pacing the 3:50:00 full marathon for the Oklahoma City Memorial Marathon 2018. I caught the running bug trying to live a healthier life. Peer Pressure from those you love also influenced me. What I found out was the running community was great to be involved with. I have met so many great people since I have started running. I am forever indebted to the sport.
The Oklahoma City Memorial Marathon is such a fantastic event. This is my third year to pace at the OKC Memorial Marathon. Pacing is one of my favorite running activities. I love helping people reach their goals. So much so, I am also coaching a group of fantastic runners in Red Coyote's marathon program. Every time I pace for an event, we have a blast! I look for OKC Memorial Marathon 2018 to be no different.
I can't wait to see everyone at the start line, or rockin the race on the course. I am excited for the opportunity to help runners reach their goals. Come out and run a few steps with me……or well……. 26.2 miles. Cheers!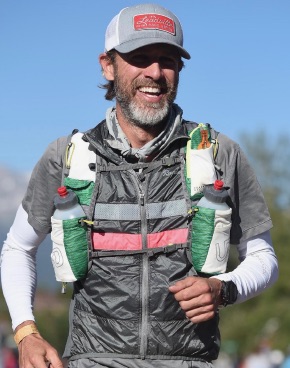 NEIL SMITH
3:50
When I'm not running, I'm a lawyer that specializes in representing kids that have been abused. When I'm running, I like to focus on marathons and ultramarathons. Last summer I completed the Badwater 135 in Death Valley. This summer, I'll be running the Leadville 100 in the Colorado Rockies. I love the Oklahoma City Marathon and I'm looking forward to leading a pace group again this year. I really enjoy meeting new people. So, be sure to introduce yourself when we see each other on the course.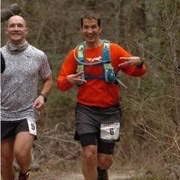 MATTHEW REILY
4:00
My personal running motto is "Bringing smiles to the miles" and I strive to lift up every runner I pass in training and during a race. I try my hardest to give a high five, words of encouragement, or at the very least a wave and a smile. I found my passion for running during my time in the Navy and ran my first marathon back in 1997 while stationed at MCBH Kaneohe Bay, Hawaii. Over the past few years I made the transition to running more ultra distances and have completed several 50Ks, 50 milers, and 100 mile or greater races. I'm pacing so that I can share my love for running with others and help / encourage / motivate others to reach their goals.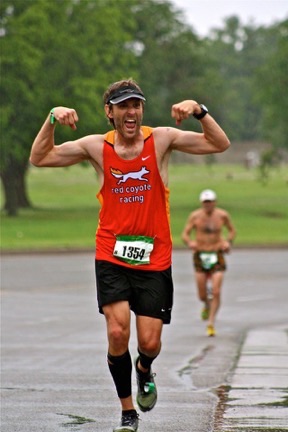 BRENT STOVALL
4:00
I will be one of your pace leaders for the 4:00 marathon finish time.  My name is Brent Stovall and this will be my seventh year to be a pace group leader for Red Coyote Pacers.  Being a pacer is hands down the most fun marathon I run. Having the ability to run at a comfortable pace and encourage others as they push their body into total exhaustion and pain is such a joy to watch. Just kidding! However, it is a joy to watch as others obtain their goals whether it be a Boston Qualifying time or just a personal record. I have run marathons in nine different states ranging from small town runs to some of the biggest. Although being sick at the time, the 2013 Boston Marathon has to be my favorite race. However, the OKC Memorial is a close second. I hope the 2018 Oklahoma City Memorial Marathon will yield many their BQ or PR. I am looking forward to meeting all that will be running with me.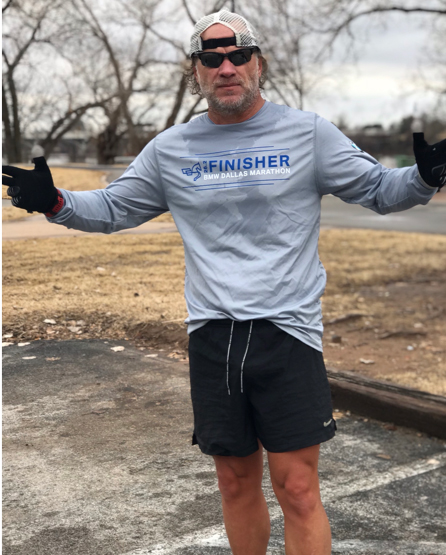 PAUL BRINKMAN
4:10
I'm honored to have been selected to be one of your pacers for the 4:10 group. It is my privilege to assist you in your quest to finish your first full or to hit our group time. I've been blessed to pace OKCMM before. I've run multiple marathons throughout the country and like most, my running journey started with 5ks and went from there. Along the way there have been countless people that have guided, coached and encouraged my running journey. I'm very grateful to be able to give back to the OKC running community. Feel free to chat me up, I love to talk anything running. See you at the starting line!!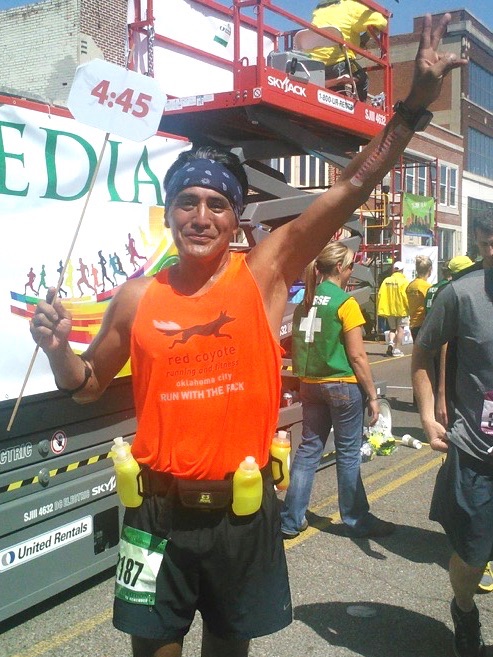 MARLON ONCO
4:10
I've had the pleasure of serving as a pacer for the Oklahoma City Memorial Marathon in four of the last five years (an injury knocked me out on year.) I enjoy pacing and helping others achieve their marathon goals and dreams. It's an honor to run and pace this event again in 2018.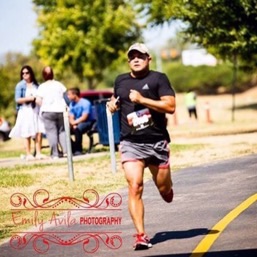 SHAR MASSI
4:15
My name is SHARIFF EL-ASSI but everyone calls me Shar. I am pacing the 4:15 group for the first time. I'm 46 years old and grew up in the republic of Panama where I roamed the jungle. I moved to the USA when I was in high school in 1986. I attended high school in western Oklahoma. During high school, I was always a sprinter. I ran the open quarter, the 4x400 relay and the 200 meter dash and the 100 meter as well. Never once did I think I would be running long distances . My coach always told me that a sprinter could become a long distance runner. He was right!  25 years later  I ran a full marathon and ever since, I have enjoyed the challenge. I love how big the OKCMM has become and the support is amazing. I look forward to helping others achieve their goals.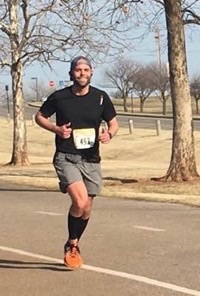 BLAKE THOMAS
4:15
I've been a runner off and on since high school, but really became committed again in 2012 after signing up for the relay at the OKC Memorial Marathon. Since that first race in April of 2012, I have competed in many half marathon, 10 full marathons, and 3 ultra-marathons. Of all of these runs, the one thing that stands out the most is the feeling I got when I crossed the finish line of my first marathon. Since then, I've grown to love helping other people achieve this goal and getting to be there for this moment with them. I have paced the OKC marathon the last three years and look forward to doing it again this year.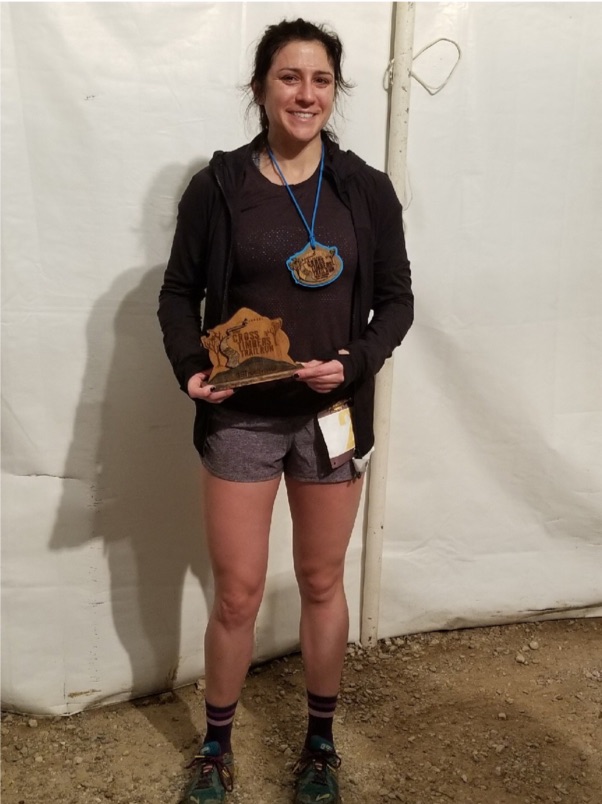 SARA AKINS
4:30
I have been running for almost 20 years, since I was about 10 years old. I ran track and cross country through high school and college, and have continued to run ever since. I love running because it makes me feel good and it makes me so happy. I want to be a pacer, because even more than I love running, I love sharing running with others, I have not done many formal races, because after college I just wanted to enjoy running, pressure free, but lately have decided to do more races. My most recent race was a 50 miler February 17th at Lake Texoma. I was the first woman and third overall..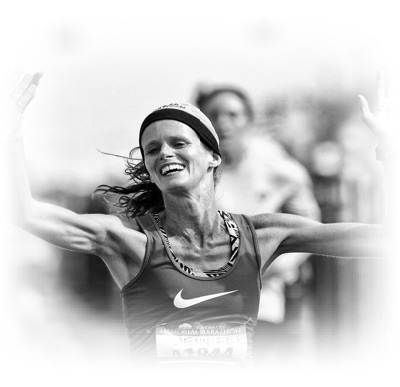 JENNIFER STONG
4:30
My name is Jennifer Stong and I'll be helping pace the 4:30 marathon group. I'm 45 years old and live in Edmond, OK. I took up running in 2003 and have run 72 marathons and 13 ultra-distances during that time. In the last few years I've fell in love with the ultra-distance and have completed my favorite race, 24 The Hard Way in OKC three times. In 2016 I finished with the most miles I've completed yet at 113.1 miles. I've also participated in 6 and 8 hour endurance runs as a lead up to 24 THW. My marathon PR is 3:07:55, which ironically occurred at the Go Short, Go Long, Go Very Long 50K where I was the 2017 overall winner in 3:45:48. I've ran the OKC Memorial Marathon every year since 2004 with 2014 being my most memorable running experience as my husband and I finished the race together at the same time. I'll be pacing the 4:30 marathon group at OKC 2 weeks after running my 3rd consecutive Boston Marathon. I look forward to meeting everyone in my group and sharing another great race together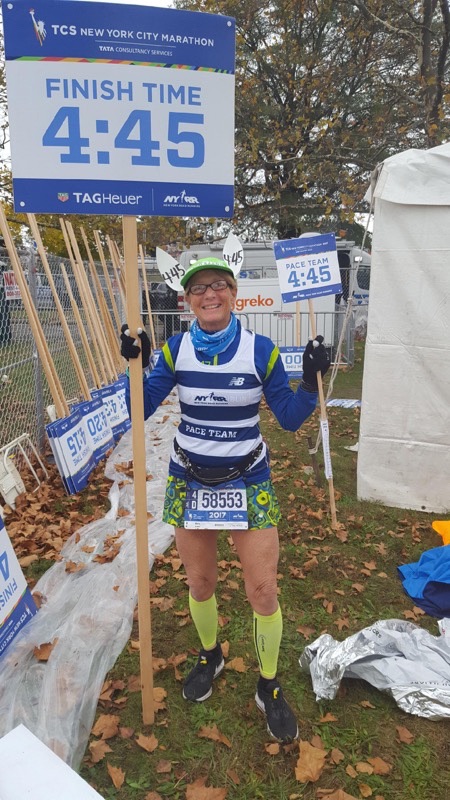 MARIE BARTOLETTI
4:45
I'm a 60-year-old retired elementary PhEd teacher avid runner, cyclist and triathlete. I'm also a stroke survivor completing 79 marathons since my stroke on Thanksgiving, 2015 (11/26/15). Marathons run as of (3/5/18) 404, 50 States in two years all sub 4:00, Marathons paced 300 plus, NYC Marathon 18 times, Chicago Marathon 18 times. I have run and or paced in Africa, Australia, Brazil, Germany, Iceland, Ireland, Italy, Japan and Spain. I have run many ultra-marathons including Badwater (14 place overall) and Western States. 've completed 10 Ironman Triathlons including the 2012 World Championship in KONA.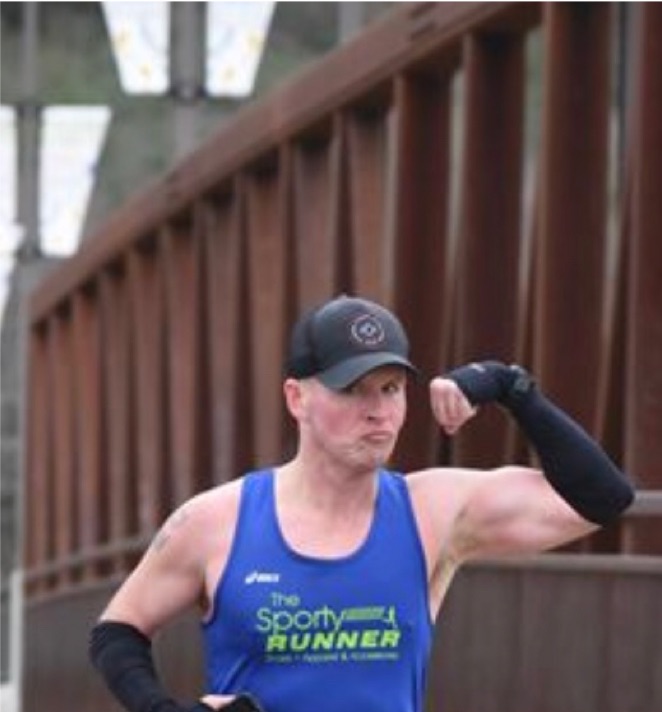 RYAN WESTIN
4:45
I love helping others reach their goals! I've accomplished my running goals of running a marathon in all 50 states in 2012, finished my 100th marathon in 2016 and reached Titanium status with Marathon Maniacs last year after running 47 marathons in 31 states. My goal now is to help other runners whether it's your first marathon or you trying to PR. I promise our pace group will be fun, energetic and help distract you as well as motivate you along the way to reach your goal. You've put in the months and months of getting up early to get your long runs in, stuck to your training schedule and now it's time to enjoy all that hard work running one of my favorite marathons.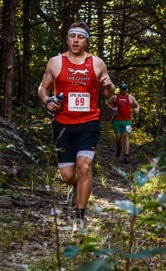 DALLAS DALEY
5:00
This will be my fourth year to pace the OKC Memorial Marathon. One thing I have learned is you can never predict the weather! I got into running 6 years ago with a fellow Red Coyote. Since then, I have run 35 marathons/ultras, including a 100 mile race this past December. I enjoy training and pushing myself in these long runs to see what your body and mind can do. I am excited to be back in OKC for the Memorial and look forward to #36 with the 5:00 crowd!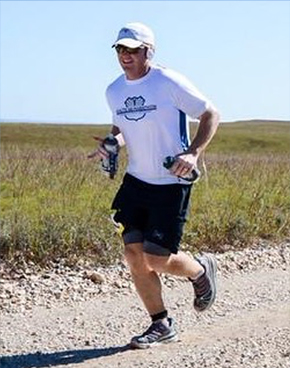 CHRIS SMITH
5:00
This is my fourth year to pace the Oklahoma City Memorial Marathon. Pacing this event is an incredible yet trying experience due to Mother Nature, but what else do you expect at the Memorial - be prepared mentally and physically so Mother Nature doesn't stand a chance. I met some great people and enjoyed running with everyone. I have been running for 11 years and have many marathons, triathlons, and ultras on my resume.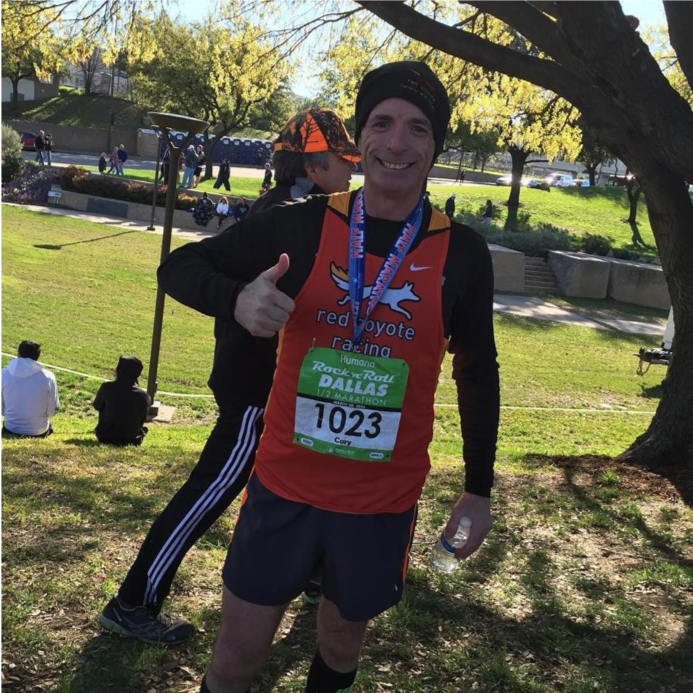 CORY POWELL
5:15
I wanted to be a pacer so that I can give back to the running community. I've been running again since late 2013 and have enjoyed the support and friendship of the OKC and Red Coyote running family since day one. Thanks to the support from my friends and hard work I have lost over 200 lbs from late 2013 until now. I've run 8 marathons and multiple 1/2 marathons and other races and even was fortunate enough to earn outright wins at one full and two half marathons. My favorite marathon so far has been Grandma's Marathon in Duluth, MN where I qualified for Boston 2015. Most recently, I've qualified for the 2018 Berlin and Boston Marathons. I've enjoyed every race I have run in some way or another but that one is special to me. You can trust that if you want to run your goal time with me you'll get it. Just have faith in yourself and our pace team and we will get you there!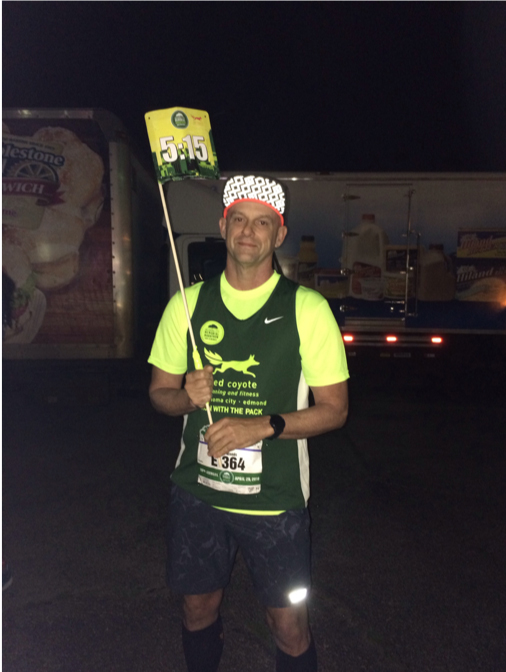 TOM WOODS
5:15
I have been running for three years. It has been a true blessing for me to run with Red Coyote. I cherish the friends I've made through running and consider it an honor to serve as both a coach for the marathon training program and a pacer for the marathon.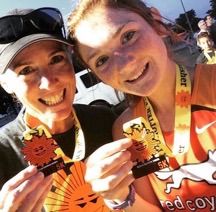 RENEE ATKINSON
5:30
My name is Renee Atkinson. I am a 22 year old college student studying Community/Public Health at UCO. I am very excited to be a pacer for the second time this year. I live my life by the 3 P's: Pugs, Pop tarts, and Ponchos. If I'm not stalking pugs, eating pop tarts, or both, I am wearing a poncho. Sometimes I even run while wearing my pug poncho! We're going to have a lot of fun pacing this race. I look forward to seeing everyone!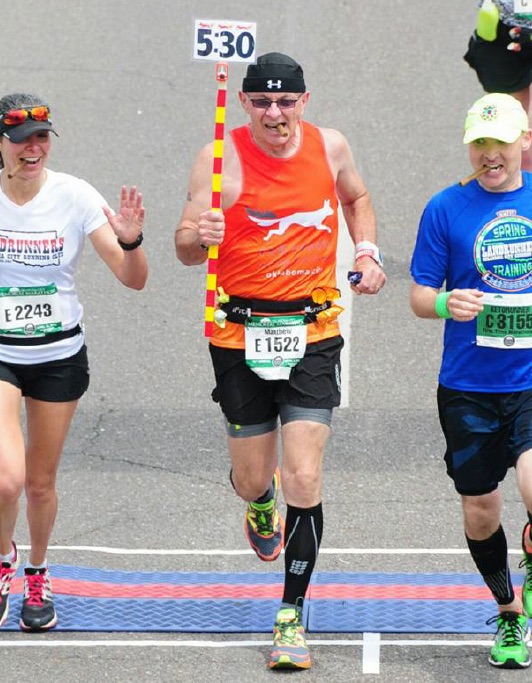 MATTHEW MCBEE
5:30
My name is Matthew McBee, & this is the 9th year that I have run the OKC Memorial Marathon, & my 4th year to be a pacer. I started running late in life compared to most other runners, I didn't run my first half marathon until I was 52 years old. Overall I have run 20 marathons, 13 half marathons & 5 ultra-marathons. If you're not familiar with an ultra-marathon, it is a distance that is longer than 26.2 miles, with the most common one being the 50K & 100K, which is a little over 31 miles for the 50K, or 62 miles for the 100K. As you can tell by my pictures, I like to have FUN while I run. I like to pace the last group, it's usually first time marathoner's who just want to finish, or runners who are coming back from an injury. The 5:30 group is a fun group to run with, all the runners encourage each other & I like to joke while running, it usually makes everyone feel at ease. My favorite running events are the OKC Memorial Marathon & 24 The Hard Way, which takes place in OKC, during the month of October. 24 The Hard Way is a timed race, but not a set distance, you see how many miles that you can cover in a 24 hour period.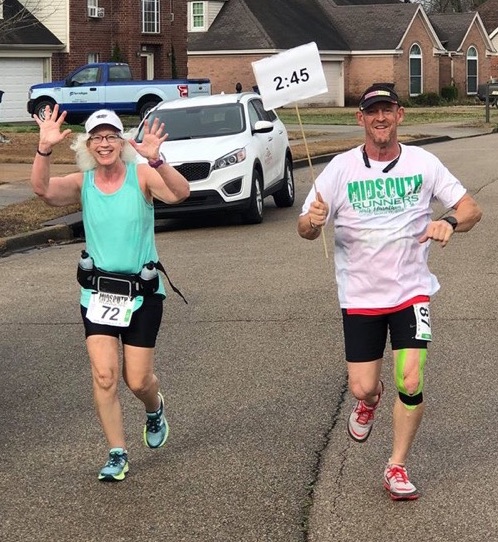 GLENN BERRY
5:45
Glenn ran his first marathon in October of 2016 and, within four months achieved his goal of running a sub-four hour marathon. While the marathon is probably his favorite distance, he loves races of all types because they allow him to be with his friends (run family) and other like-minded people. Glenn is probably best known for his grit, drive and work ethic. He also loves to motivate and guide other runners to realizing their own goals. Inhale Courage....Exhale Fear.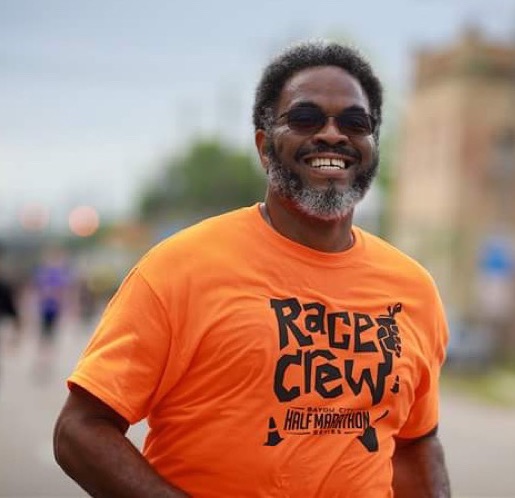 AARON BURROS
6:00
As an ultra runner, I run to feel the presence of God. I pace marathons and half marathons to serve my running community. I started running 6 years ago after my doctor told me to lose 40 pounds, or it would lose me. Desperate and determined to eliminate two things in my life, debt and weight, my vehicle broke down needing a new engine. I made the decision to walk, run or ride a bike wherever I needed to go, and that I would use the monies normally spent on my vehicle to pay debt. It was a win win. I lost over 132 pounds and thousands of dollars in debt. It all comes down to how bad you want results.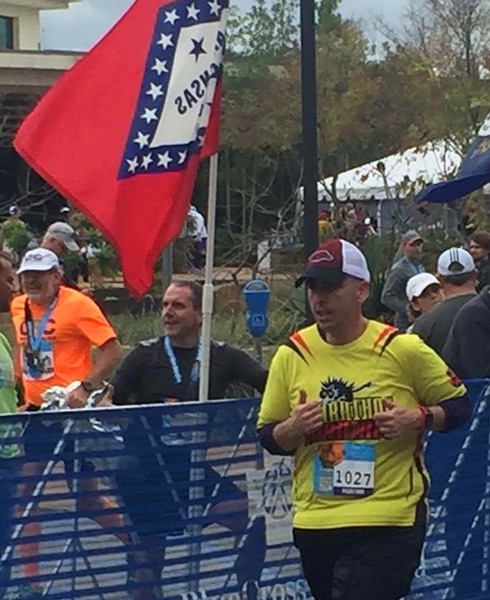 DAVID EDWARDS
6:00
David started running in 2010 as he was looking for a way to maintain his weight loss.  He had gone from being over 400 pounds to around 220.  After a lifetime of obesity and unhealthy habits, he was determined not to slide back into the body that had held him back for so long.  After running his first half marathon that year, he went into a period of short maintenance runs until 2012 where he completed the Little Rock Half Marathon.  Since then, his running obsession has shifted into overdrive.  He has completed 26 marathons and somewhere in the neighborhood of 50 half marathons.  He also directs the Team Loco Races that are held each January in Conway, Arkansas.  He has become a fixture at local races in the Central Arkansas area and looks forward to each chance he has to interact with his running family. He paces whenever he is given the chance and also goes to as many local fun runs as he can.  He is known for his loose (and occasionally irreverent) personality.  If you find yourself in one of his pace groups, prepare yourself for a day of fun and jokes of questionable funniness. If you find yourself in one of his pace groups more than once, prepare yourself  for the possibility that you will have already heard his hilarious stories.  His marathon PR is 5:07 and his half-marathon PR is 2:07. He achieved Iron Runner status on the Arkansas Grand Prix circuit in 2016 and went on to place 4th in his age group in 2017. David looks forward to helping you achieve your goals.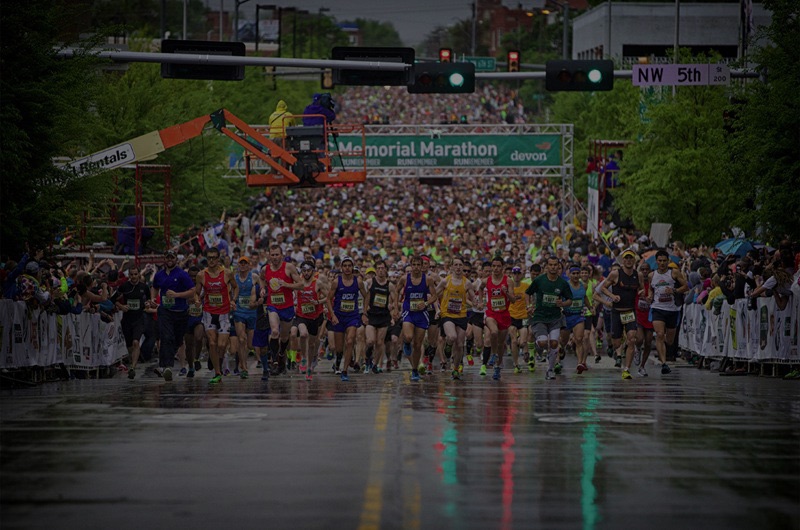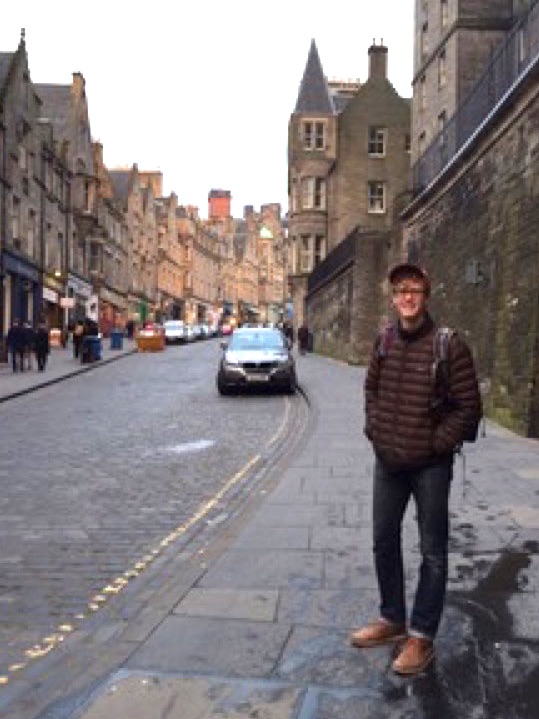 JOSIAH BILES
1:30
I first ran the Memorial Half Marathon when I was 19 years old and a freshmen in college. At the time I was running cross country at East Central University and was in pretty good shape, and expected it to be a breeze. However, when I woke up at 5:30 and it was raining, lightning, and 45 degrees, I wasn't quite so sure I wanted to do this! I decided to go for it despite the conditions and not being prepared for the weather, and it was one of the most epic and enjoyable runs I have ever done. Ever since then I have tried to be a part of the Memorial every year in some capacity either as a pacer, runner, or cheering from the sidelines. It is always such a blessing to see Oklahoma come together to remember and support each other. This is my second time to pace the 1:30 group, and I couldn't be more excited for round two! Can't wait to run with you all!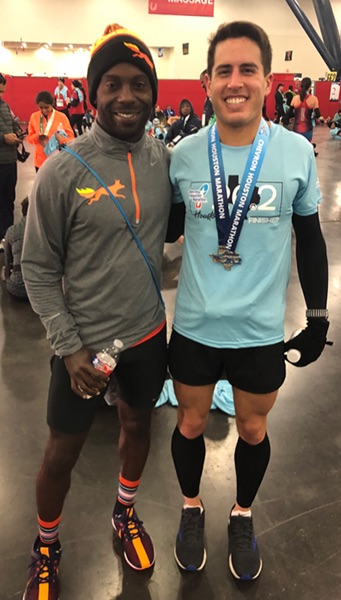 IBSEN CRESPO
1:30
Running has been a passion of mine since childhood. I really enjoy the camaraderie that running provides. Pair that with how friendly people are in Oklahoma, and you have yourself a fulfilling hobby. I enjoy training with friends and seeing people meet their goals, whether it's running a first 5K or getting a faster time in the marathon. I wanted to be a pacer for the experience of helping others reach their goals for this race. I can't think of a more rewarding experience than giving someone a high-five and yelling "we did it!" after crossing the finish line on time.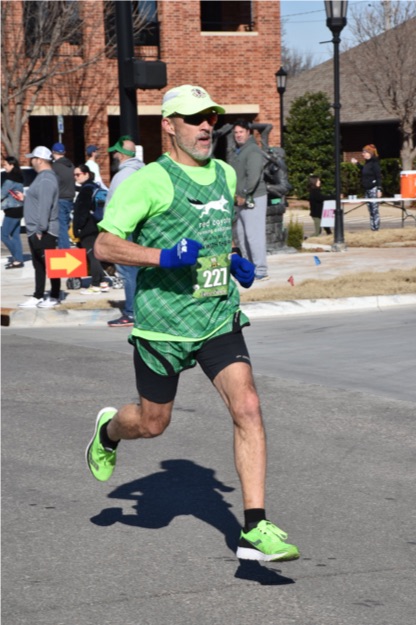 JEFF WAGNER
1:30
I began my running "career" shortly before retiring from the US Air Force when my oldest son started cross country in high school. I ran my first OKCMM Half Marathon in 2009 and my first OKCMM in 2010. Since then I have completed 16 half marathons and 22 marathons in 13 states including Marine Corps Marathon, Air Force Marathon, NYC Marathon and Chicago Marathon. I plan to run the Boston Marathon in 2019. While I love the OKCMM as my local race, my favorite marathon so far is Chicago where I qualified for Boston and set a new PR. I am a huge proponent of the Hanson's Marathon Method for a training program. Without it I don't think I would have achieved the race goals I have set for myself. I enjoy running because it is a stress reliever and allows me to get lost in my own thoughts. I have had many epiphanies during short and long runs. I have been an official pacer with the Marathon Maniacs for one marathon. I have also recently paced two individuals to Boston qualifying times so I feel confident that I will help you reach your goal time. Most importantly, have faith in yourself and your training and our pace team will do the rest.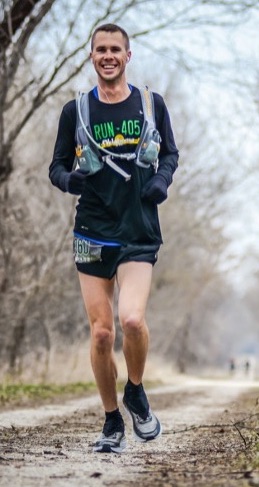 JAMES STRAHORN
1:35
This will be my 3rd year as an Oklahoma City Memorial Marathon and Half Marathon Pacer. I love getting the opportunity help others and serve as a pacer. I have paced 4 marathons before, this year's half-marathon will be my first and I am super excited! I am a math teacher at Guthrie High School, and a cross country and track coach. Our annual OKC Memorial Marathon is special to me with it being local, and what it represents. I am looking forward to being your pacer.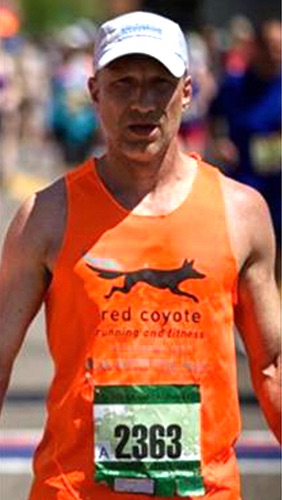 DAVID BALL
1:40
Welcome to the OKCMM Half Marathon.  I am a veteran of 37 marathons and numerous half marathons.  I have paced the OKCMM events for the past six years in either the Full or Half distance.  Personally, I have recently run the Chicago Marathon in 2:57 and the Phoenix Marathon in a PR time of 2:53:18.  I have my eyes set on a Half Marathon PR this fall of 1:19.  "Dedication and Perseverance" are my focus words when it comes to training.  I have found that pacing runners is the most rewarding way to participate in a race.  I fully appreciate  the benefits of running with a group and feeling the camaraderie, as that is the sole reason for my success and enjoyment of running.  Our 1:40 Half Marathon pace group will hopefully push and pull you to meet your goals and help make this year's OKCMM Half Marathon a great experience.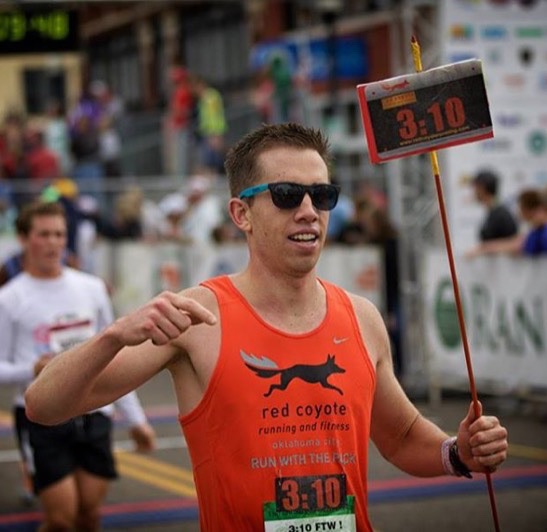 NEAL LUCAS
1:40
Howdy, my name's Neal Lucas. This is my second time pacing the OKC marathon, and I'm stoked to do half the distance this year with ya'll (1h 39min 59sec countdown to beer). Back in the day I raced a few ultra-marathons and whatnot, but now I just like cruisin' with friends.We'll be hitting a nice even 7:32/mi pace for the race, and attempt to have a little fun in the process. Bring a GU or two, stay relaxed, and enjoy the ride.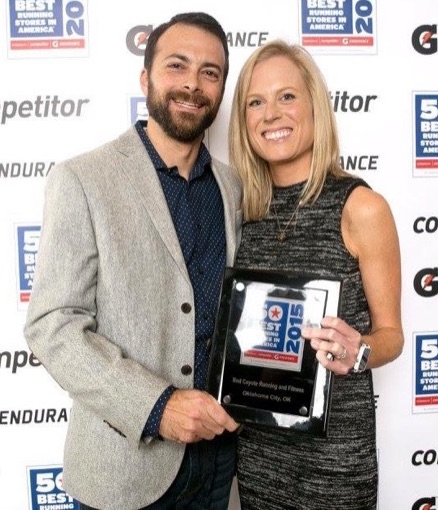 JON BECK
1:45
I am a co-owner of Red Coyote Running and Fitness with my wife Burke.  This is my first year pacing the OKC Half Marathon.  I have been running for over 20 years from high school through college and competitively for years after college.  My goal in running is to help others succeed in reaching their goals.  That has been our motto at Red Coyote and I am excited to help a huge group succeed in reaching their half marathon goal.  Josh and I are excited to lead the group and have fun doing it!.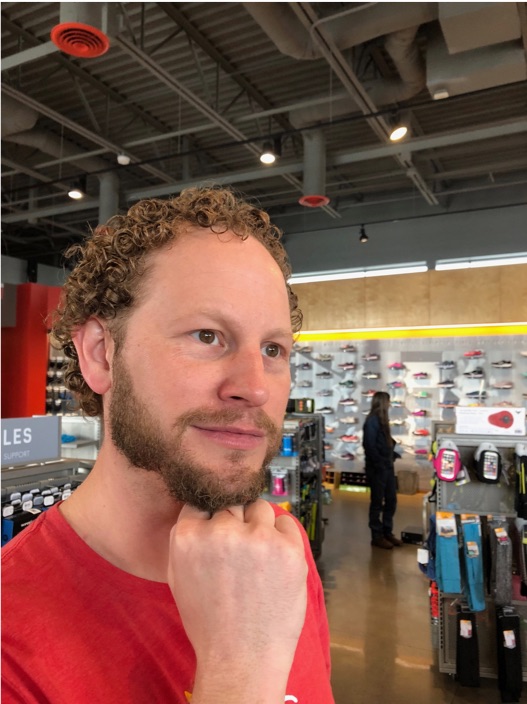 JOSH LACAN
1:45
Josh started his journey in a small town in Ohio.  From a young age he knew that he was destined to be a pacer.  He dreamed that one day that he would pace the 2018 Memorial Marathon for the 1:45 group.  And now it is finally here.  He has run numerous half and full marathons in preparation for the day to be at his best and ready to do his duty.  He looks forward to helping everyone achieve their goals and crush the 1/2 at OKC.  When Josh is not pacing and dreaming about pacing, he is managing Red Coyote Running and Fitness or spending time with his wife and two children.
Let's RUN!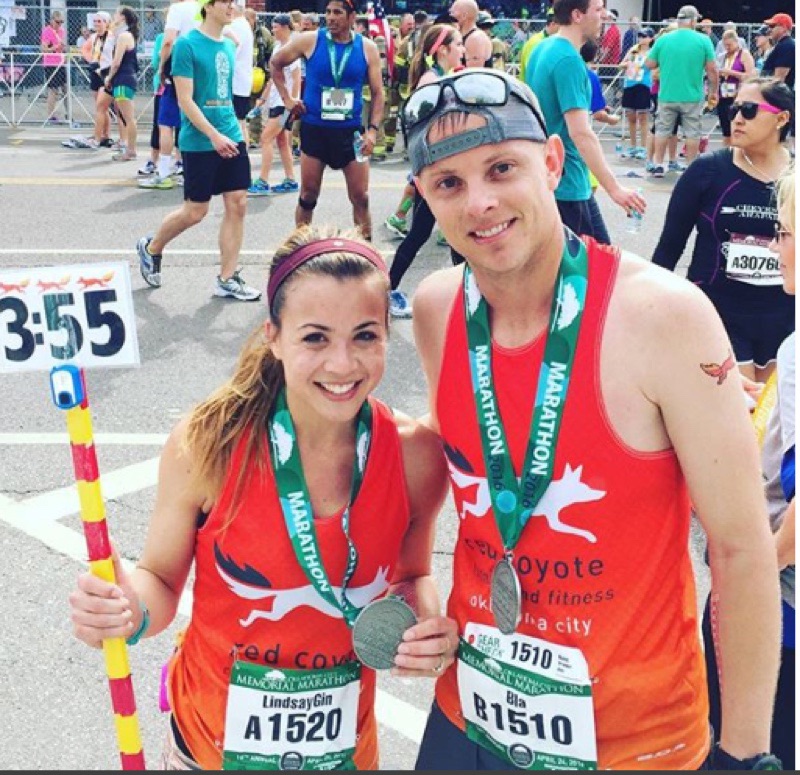 LINDSAY GIN
1:50
Growing up, my parents instilled & embodied the idea that running/exercise is as routine as brushing your teeth.~ So began my fitness journey of a lifetime~ Also, the best humans are runners, so it is hard to stay away from this sport. This will be my 3rd time to pace the OKC Memorial but my first time to pace the ½ Marathoners! I am super excited to help the 1:50 Group reach their finishing goal or even surpass it! I love this Marathon because there is so much buzz & positive energy surrounding the message to Remember. If you want to know anything about me: I will be crossing the Boston Finish Line on April 16th 2018, Sharpie Calf Smileys are a must (fig.1) & I bleed orange – Go Pokes~  

CODY PEPPER
1:50
I started running (at a distance greater than 5k) only a handful of years ago. While at a funeral for my grandmother I spoke with my cousin who had just completed a 50-mile run. Not a race, just a run. His reason was "because I wanted to see if I could". He was my baby cousin, and being the competitive person I am, I decided take him up on his challenge to increase my own running. The next weekend was my first 13.1-mile run. It was the OKC Half Marathon. My cousin and I came through the finish line together and he looked over at me then said, "Isn't it easy to imagine doing that distance twice?" After I caught my breath and stopped laughing at his preposterous idea I decided to try to take him up on his crazy suggestion. A few months later I ran the San Francisco Marathon and ever since I've been hooked. Running has been a sort of therapy for me. Someone told me that everyone who runs is probably running 'from' something or 'toward' something. In my case it has been both and changes depending life's circumstance but one thing remains constant, running is there for me. It all started at the OKC Marathon, which is why every year I like to come back and pace to help others in wherever they are on their journey of running from or to.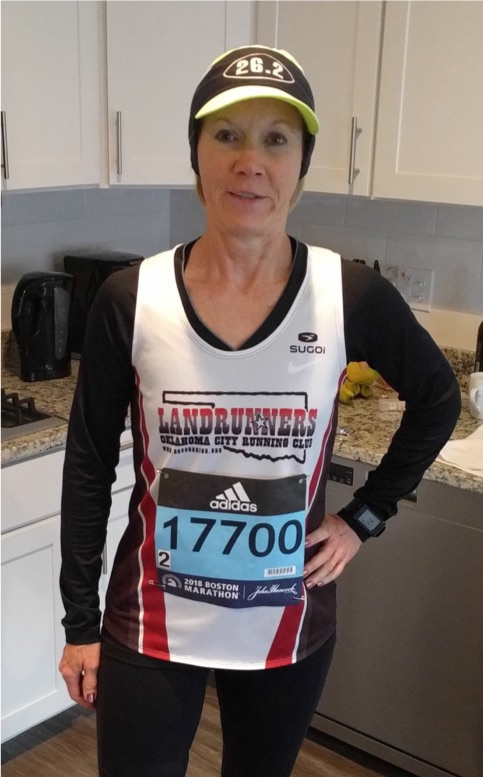 MARY MIKKELSON
1:55
Like many others, I began running to get in and stay in shape and it has become addicting. I have met so many wonderful people through running and really enjoy the camaraderie during and after runs. While it may be difficult to get out of bed on an early weekend morning to get your miles in, it is always so much easier if you have friends you are meeting and so rewarding after. The OKC Memorial Marathon was my first marathon in 2003 and it hooked me as I have now run over 52 marathons in 38 states and a bunch of half marathons. Setting goals and achieving them is always fun but it is even more rewarding to help others achieve their goals. I look forward to helping motivate all those running with us to achieve their personal goals this year.  
DEREK OLSON
1:55
This is my 4th year to pace for Red Coyote and my 6th year to run in the OKC Memorial Marathon. I have completed 1 marathon, 5 half marathons, 1 half Iron-Man, and lots of 10k, 5k, and sprint triathlons. I started all this to stay fit and healthy after I got out of the military, but now I do it because I love to run and that feeling of accomplishment you get at the finish line when you finish the race. It's always fun recognizing some of the same faces at all the different events, most of whom you don't know there name, but you feel as though you know them because they have the same drive that keeps them training and competing the same way you do. I love volunteering as a pacer because when I did the full marathon years ago Red Coyote pacers helped me get through it at a pace that I wanted, and I want to help motivate others like the Red Coyote pacers motivated me, and finish at the pace you want. My favorite race is OKC Memorial Marathon and I can't wait to meet all the new runners in my pace group this year.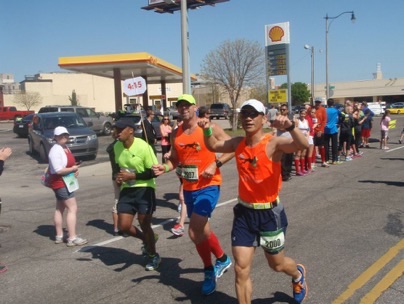 JUSTIN CHAN
2:00
This is a very special marathon for me because this is where it all started back in 2008.  My very first marathon was the OKCMM, and I ran a 4:45 back then. I'm really looking forward to the reward of giving back to the running community. My favorite marathon course is Grandma's in Deluth, MN.  It's an awesome PR course where you run on a closed scenic highway with a great view of Lake Superior.  The crowd support is incredible, and it's also where I achieved my current marathon personal best.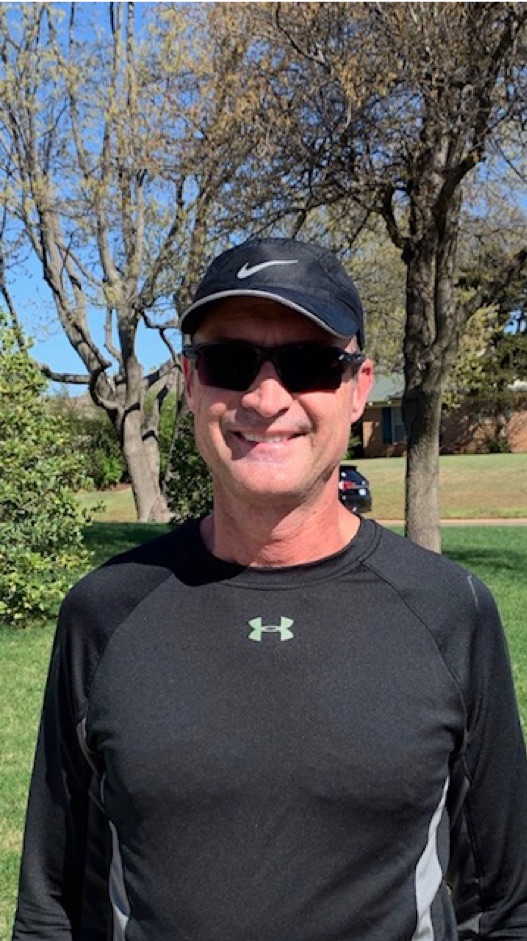 MIKE COLLISON
2:00
I love being a pacer for this marathon. Being a part of this event reminds me what happened in 1995. This will be my seventh Oklahoma City Memorial Half Marathon and my fifth as a pacer for one of the events. I have paced the 1:45, 1:55 and 2:00 half-marathon groups and the 4:00 full-marathon. I love running with other runners and being part of their journey. Running has taken me to events from New York to California. I have made some great friends while running and enjoyed some fantastic trips.  
STEVE WELLS
2:15
I'm excited to have been chosen to pace the Oklahoma City Memorial marathon again and hope that I can help you achieve your goal. This will be my 21st marathon distance (or greater), 5th time pacing, and 2nd time pacing the OKCMM. I started running when I attended a race that my wife and son were in and loved the sense of comradery among the runners. I started running smaller races at first, and after each one, eyed the next distance goal thinking 'yeah, I could do that. But after I get the next goal I don't feel like I need to go any farther'. This continued up through marathons, a 50k and a 50 mile. Now I run mostly marathons and always try to have a race on the horizon to train for. One of the things I love about running is being able to help others reach their goals. Pacing gives me a chance to do that and also give back to the running community. Another reason I love to run is for the social aspect. While some of my training is solo, I really live for training runs with my closest running buddies. They are the ones that keep me going. Although I've only lived in Oklahoma City about 4 years, I am native to Oklahoma and know people that lost friends and family. This run is to honor them and their memory.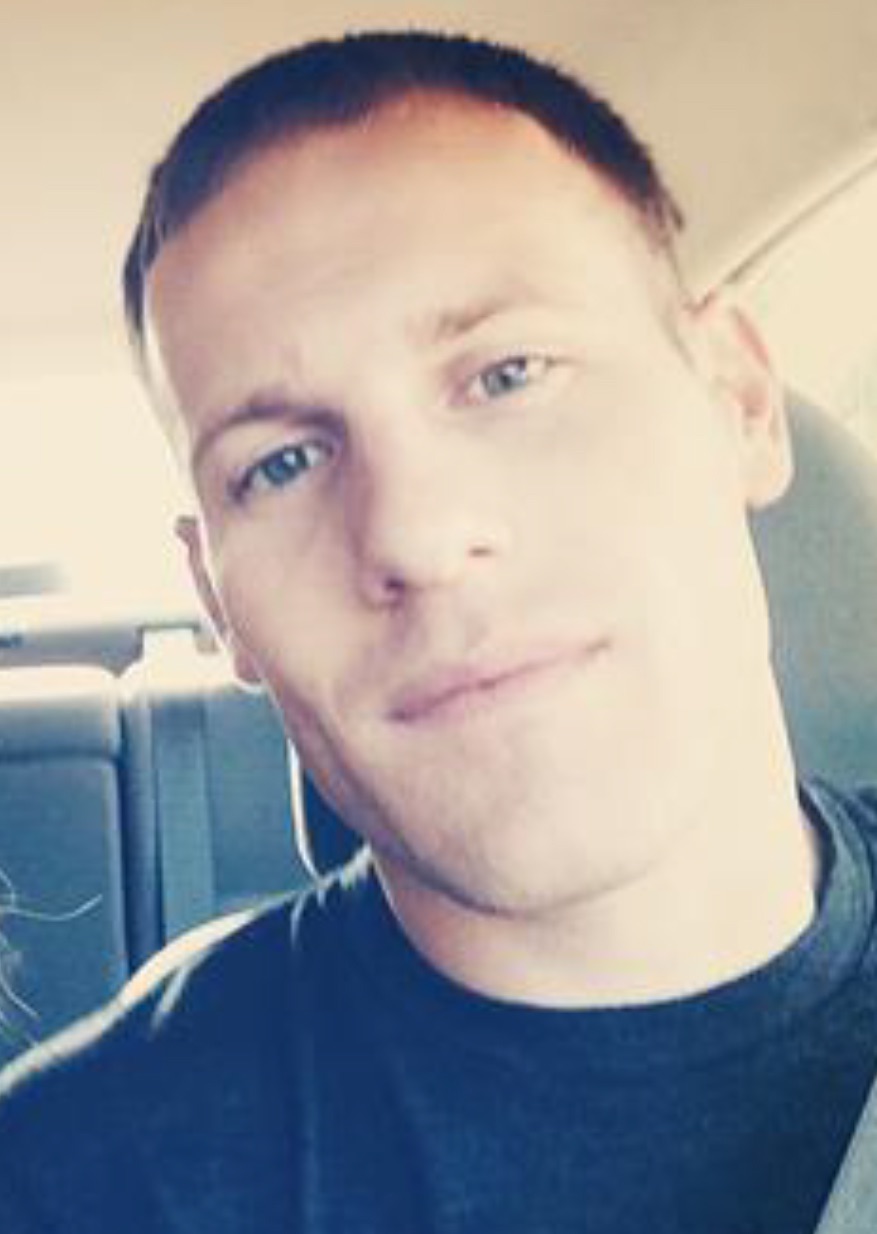 TREVOR ZIMMERMAN
2:05
My name is Trevor Zimmerman. I enjoy running and fitness and believe I have found a hobby that will last for the rest of my life. I enjoy running because it is a chance to be outside and enjoy nature. I began running in 2009. I found that it was an enjoyable activity that can be done anywhere with minimal equipment.
My favorite types of events are obstacle races. I have competed in many obstacle races ranging from 3.1 to over 13 miles. I enjoy these races because they provide a mental and physical challenge unlike other races. I have carried a sandbag up a hill, swam, climbed ropes, climbed walls, thrown a spear, and hurdled fire at different times during these races. I love the challenge and believe that the chance to push yourself and to learn that you can do more than you previously thought is a great lesson. I am currently recruiting some of my students to run in a future obstacle race with me.  I enjoy helping push others toward their goals and am ready for any of you who want to make that happen in Oklahoma City.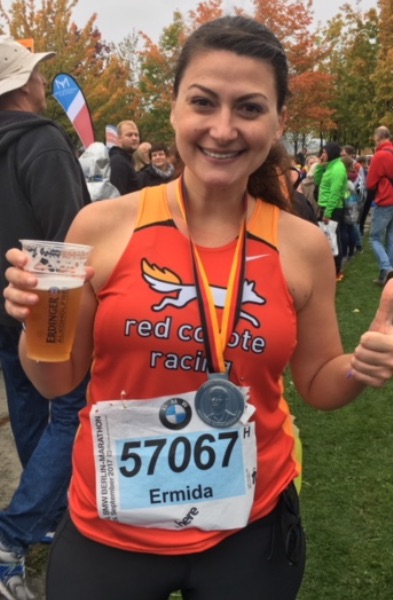 ERMIDA LAPIC
2:10
I started running late in my life, ran my first half marathon in 2014 and I have not stopped since then. I have now ran about 40+ half marathons and 6 marathons. I am so excited to come back as a pacer and see people achieve what they THINK is not possible till they go through that finish line! Let's have some fun!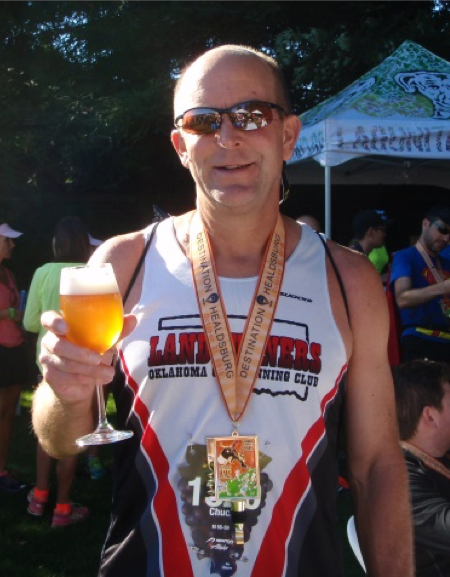 CHUCK MIKKELSON
2:10
I ran my 1st OKC Memorial Marathon in 2004 and it is still my marathon PR (3:49:52). Since then I have completed over 200 events (2,300+ event miles) which includes 45 marathons in 35 states. This will be my 4th year as a Red Coyote Pacer for the Oklahoma City Memorial Half Marathon. In 2014 with the 2:00 pace group to a 1:59:24 finish, 2015 the 2:30 pace group to a 2:29:24 finish and 2016 the 2:15 pace group to a 2:14:05 finish. I enjoy the camaraderie of running and love to interact with other runners, volunteers and spectators along the route. I have run a few big marathons like Chicago, Marine Corp, Houston, Las Vegas and San Francisco. My favorites are the smaller events with scenic courses like the Lake Tahoe Marathon, Mickelson Deadwood Trail Marathon, Anchorage Marathon and Wine Country Half Marathons. You won't catch me running with music but you will see me taking photos along the way. I have been known to partake in adult beverage stops along the route so feel free to join me for a cold one either during or after the run. Once it stops being fun is when I will hang up my running shoes.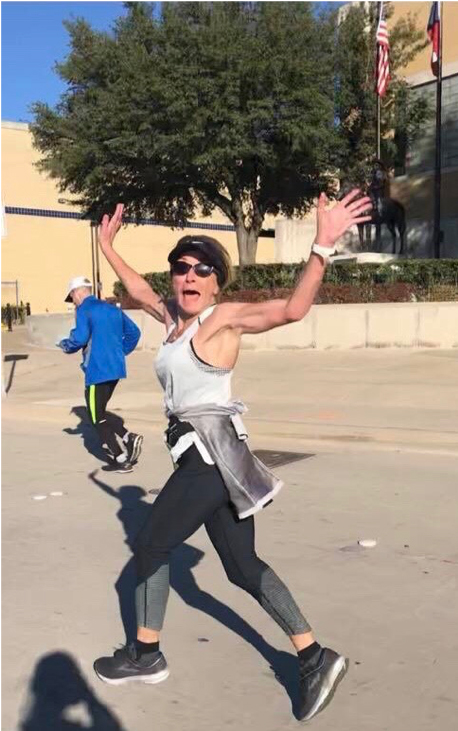 ROBIN GARRETSON
2:15
Hello, half-marathoners! I'm pleased to congratulate you in advance on your accomplishment! Training for and deciding to race a half-marathon is an awesome feat and I'm sincerely excited to help you achieve your goals. We are going to have a blast! I'm looking forward to celebrating your achievement; honoring our city's cherished memories; and to sharing each mile with you! My running history includes finishing my first race (ever), a 10K in 1999 to my 3rd consecutive Boston Marathon in 2018. I've completed several other distances along the way and in between, building friendships and honing my skills with every step. I hope your Memorial Half-Marathon proves the same for you.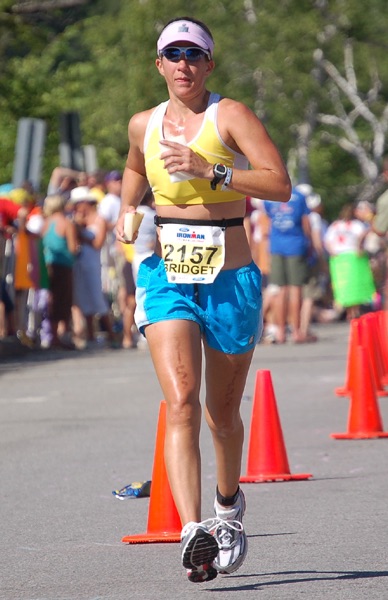 BRIDGET MILLER
2:15
I participated in all kinds of sports growing up in Nebraska. When I moved to Austin for graduate school, I started to get into distance running and endurance multisport. I enjoyed the camaraderie with my training partners and the process of training in general. Around the same time, I began studying exercise and mental health as part of my dissertation research. The long training complemented my academic work by providing personal opportunities to test what I was reading about in the academic literature. In addition, I have been a group exercise instructor for over 15 years, and pacing races is like teaching aerobics on the road. I serve as a racer's cheerleader while supporting them as they work toward reaching their goals. It is also an opportunity for me to share my passion for exercise while getting to know the runners in my group. I have paced both the OKC Memorial and Tulsa Route 66 half-marathons several times, and I still teach spinning classes for OSU's Department of Wellness. My favorite races include Austin's half-marathon, Ironman USA in Lake Placid, and the OKC Memorial Marathon/Half-marathon.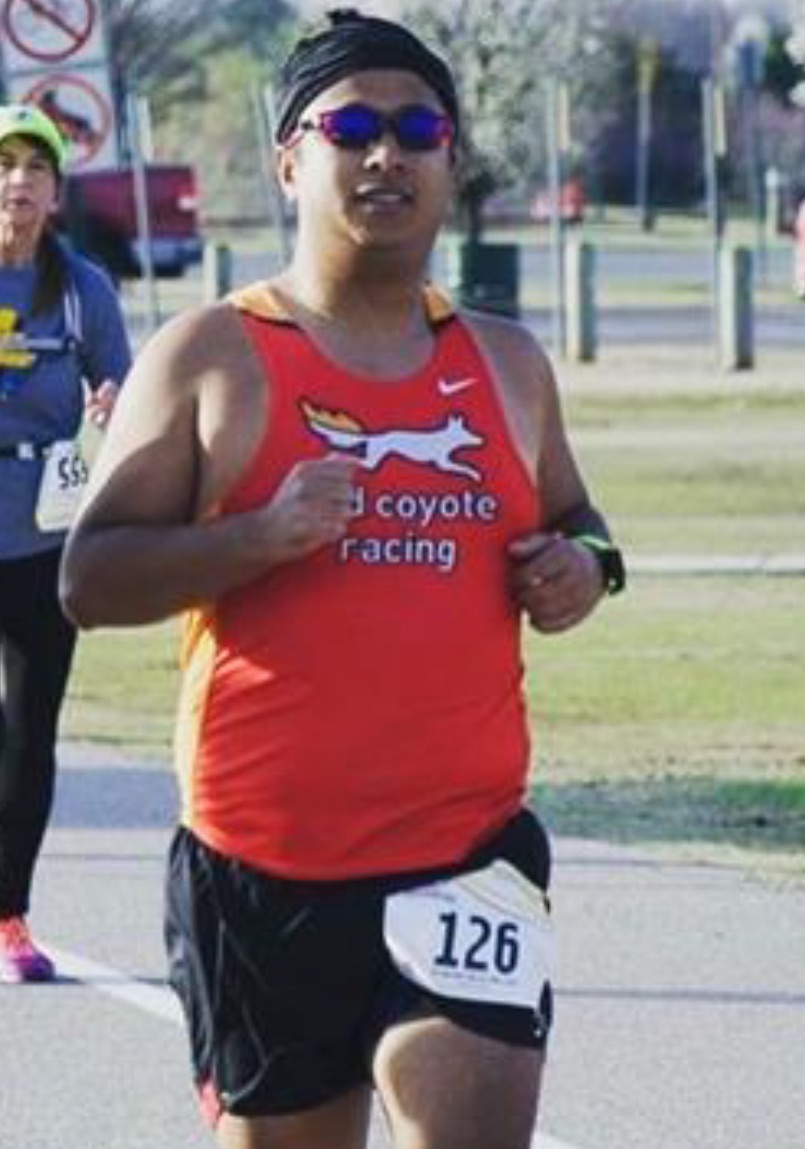 ANJESH DANGOL
2:20
My Name is Anjesh Dangol. I am pacing 2:20 for OKC Memorial Half Marathon. I started running about 4 years ago and OKC Memorial Half Marathon was my first half I ever ran. So, this race holds close to heart and I am very proud to represent the city I love. Running has taken me to many adventures and it has been great deal of fun. This is my first time pacing, so I am very excited. I want to help people to get to their goals. I have run 1 marathon and numerous half marathons. Some of my favorite half marathons are OKC memorial, Route 66, Arbuckle to Ardmore, Disney Wine and Dine, Disney Princess half, Rocky Mountain and Santa Fe Thunder. I enjoy running and it is my therapy. In conclusion, if you want to run 2:25 for OKC half marathon come run with me.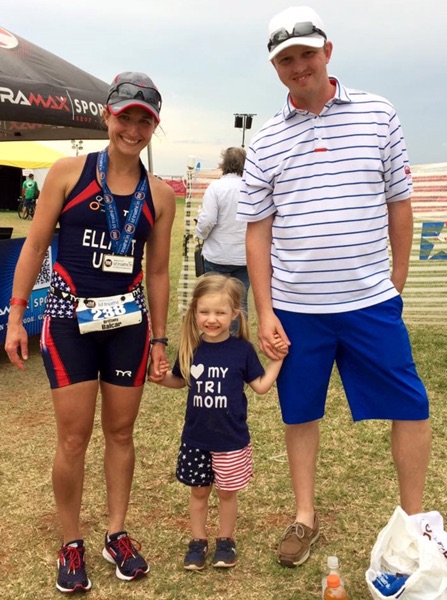 BROOKE ELLIOTT
2:20
I am Brooke Elliott—runner, triathlete, wife, mom. I have been running since I was 14 and haven't stopped since. I love to run marathons and triathlons for the chance to challenge myself and for the camaraderie among athletes facing those challenges together. The Oklahoma City Memorial Marathon is one of my favorite races, and pacing has been an incredibly rewarding experience. This will be my fourth year pacing and I could not be more excited. It is so amazing to hear the stories of the athletes we have the opportunity to run with each year. The drive and dedication of all of the runners is so inspiring. I look forward to running with you this year!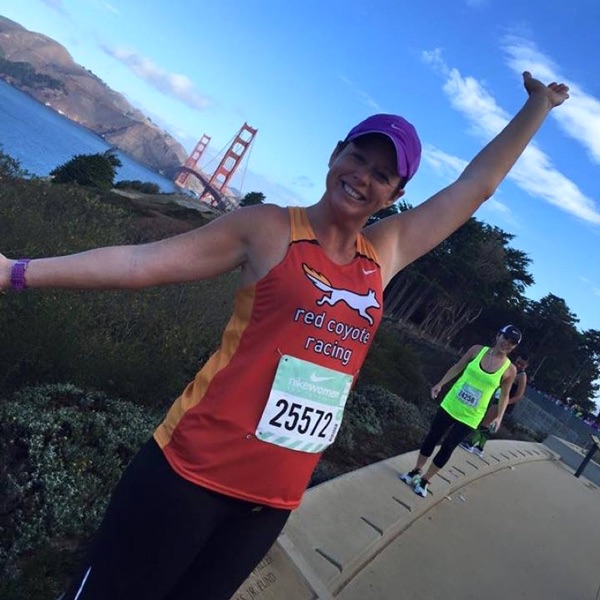 CARRIE BURKHART
2:25
I originally started running 5ks, and I thought, who needs to go farther than that? Thirty plus half marathons later, and I think I am definitely the person who needs to go farther than three miles! I simply enjoy being outside, experiencing the world on foot, and challenging myself physically and mentally. I also enjoy motivating new and experienced runners to accomplish their goals. I've been a coach for several half marathon training programs over the last five years. Being a native of Oklahoma City, the Memorial Marathon is a special race for me. It's one I haven't missed since I became a runner in 2012. The race brings together all types of athletes and the spectators are some of the best I've ever seen. There are certain parts of the course that I cannot wait to run every year! I look forward to showing the runners who pace with me those fun spots and encouraging them through whatever the Oklahoma weather brings us.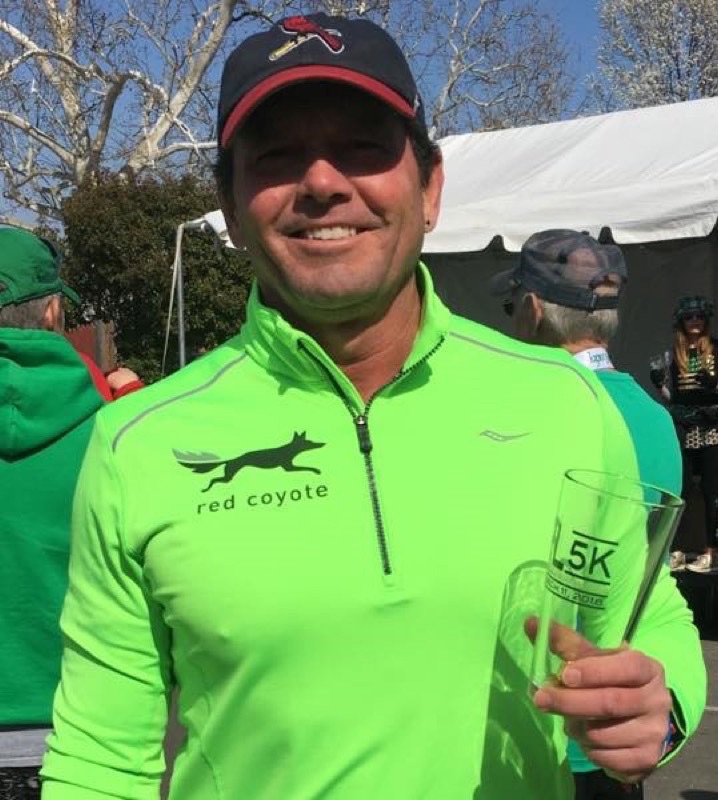 MIKE TERRY
2:25
Being born and bred in Oklahoma City, I vividly remember the morning of April 19, 1995. For that reason, I enjoy this run both to remember those lost and to celebrate the life that continues. After years of running solo in this race, I decided to experience the run with others so it's with quite a bit of excitement that I was selected to pace. So, if you're looking to break that two-and-a-half-hour mark, look for the 2:25 sign. We'll all get to that finish line and have some fun in the process.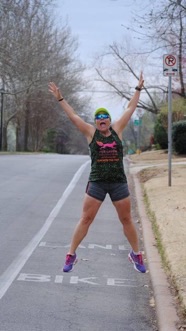 DANIELA ALEMAN
2:30
I started running with a friend in 2006 and it has been an amazing journey. At first I thought runners are crazy. Why would anyone want to do that to his or her legs and body? Over time though I found I enjoyed running, and became addicted to it. Running is my therapy; it really helps me to relieve stress and helps me with health, because I love to eat. In 2012 I joined the land runners club and felt more motivated by running with friends. That was when I started running more (races) and training for them. I am very enthusiastic, responsible, nice person, honest, respectful. This is my fourth year to pace the Oklahoma City Marathon. I have completed several marathons but pacing was a challenge for me because others were counting on me. The pressure was on. Helping others to achieve their goals and keeping them motivated over the whole course was very rewarding. All the way I tried to smile, be happy and scream out each mile marker as we passed. By the end they wanted me to scream out the km markers as well. We had a blast, I enjoyed every minute of it. Glad to do it again and again. I love it at the end when runners come to you to say thanks for all, love it, love it, and love it.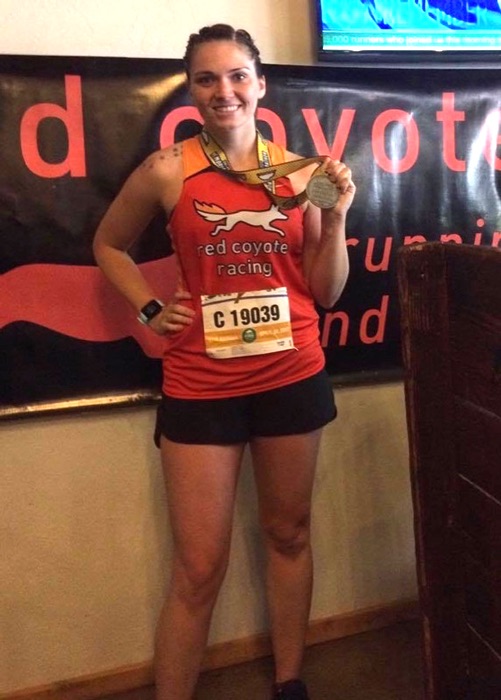 MELISSA DUGAN
2:30
Running hasn't always been a part of my life, but after five years it is now what my entire life is based around. I can really pay tribute to Red Coyote and the entire running community in OKC because they are why I'm here. I was once one of those people relying on a pacer or wanting help from a coach, and it's so important to me to be one of those people for someone else. I've grown as a runner in the past two years and have found a love for being healthy not only for myself but for other runners who are just starting, or wanting to hit a PR, or just want to go have fun because believe me I will talk your ear off! I'm looking forward to seeing everyone and I can't wait for race day!